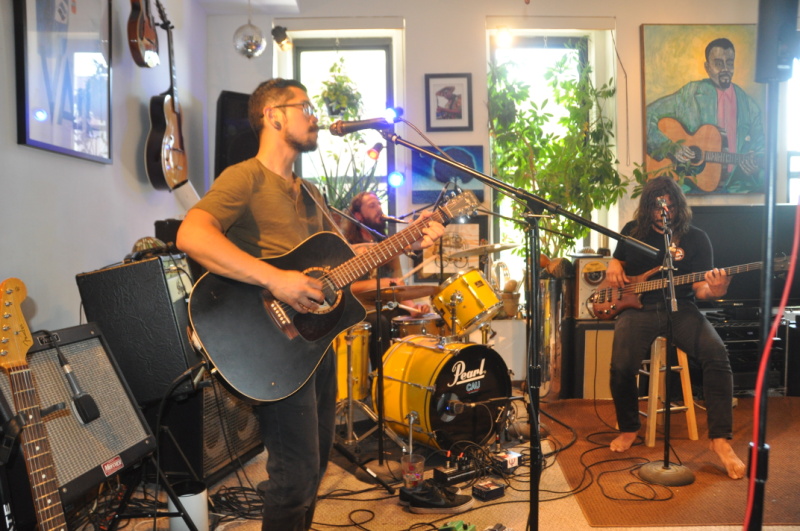 GrooveSession
Episode 686
Artist:
GrooveSession
The power of Ontario California based GrooveSession is a contagious verve in sound. Move your body, your soul, and your heart with music. Such a uniquely broad depth in their song writing, GrooveSession is a true stand out that you will remember. Made up of three master musicians, GrooveSession is led by an inspirational and talented singing drummer for the ages, Manny Sanchez, along with his younger brother, Ronnie Sanchez, on bass guitar with a signature fat tone and strong jazz fusion influence, to be rounded out and completed by their true other brother, the maestro Sarven Manguiat, who has chops, style, and phonetic flavor as verifiable as any player on the scene.

Mind, body, and sound, GrooveSession brings a multi-genre blend of rock n' roll that they simply call "movin' groovin' music." Three part harmonies and tuned to 432Hz, this band is about the Earth's natural vibration and healing properties that positive music and intention bring to life! Playing music they love and sharing their energy with a quest to end the jammin' famine.

This completely do-it-yourself trio has been booking, writing, touring and playing across the USA for the past 10 years, performing over 2,333 dates while opening for and playing with many of today's greatest bands and musicians. Catch a session… Presently recording their fifth studio release "Free As You Wanna Be" due out by the end of 2017 following their highly acclaimed album, "California Hurricane"(2015). The group is definitely building momentum largely from receiving word of mouth recognition from fans across the country. GrooveSession is actively seeking support from high end agencies to assist them to get their music and show to the masses worldwide.
GROOVESESSION IS:
Vocals, Drums, Percussion / Manny Sanchez
Vocals, Bass / Ronnie Sanchez
Vocals, Guitars, Keyboards / Sarven Manguiat
Session Photos