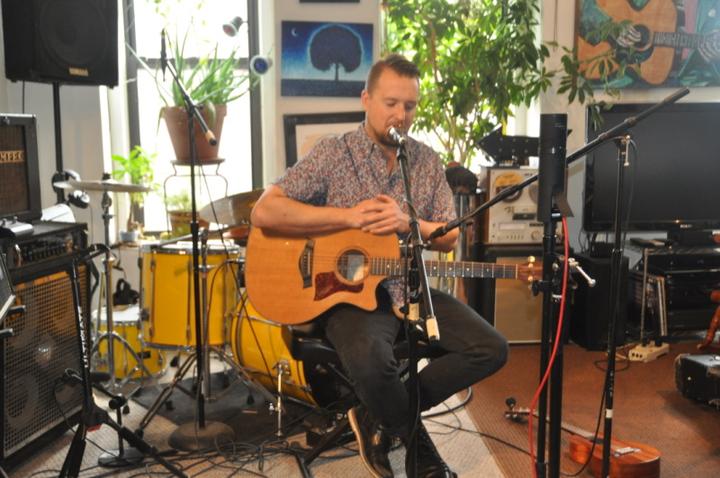 Kevin Presbrey March 2017
Episode 682
Artist:
Kevin Presbrey 2017
Ukulele infused rootsy folk rock is one way of describing the vibration Kevin Presbrey is casting out there these days, but you could also very well say that his songs have a way of giving you that cozy feeling of being snuggled up by the fireplace in your favorite hooded sweatshirt. He's warm and familiar to you. Embracing the influences of storytellers Jim Croce, Don McLean, and Van Morrison along with modern troubadours Ryan Adams and James Bay, Presbrey's Midwestern sound and personality is the vehicle for the stories he lives and shares.
Since the early 2000s, KP has amassed a loyal following throughout North America thanks in part to his songs appearing on MTV, VH1, and Fox along with being afforded the opportunity to share the stage with national acts Sister Hazel, The Doobie Brothers, Rusted Root, Big Head Todd and Tonic. Turning heads in Chicago's music scene with his first solo release Dust Unto Dust, his song "Always With Me" made its way to the airwaves of WXRT radio in 2013 followed by a national television performance on WGN's morning news.
Gaining steam in 2017, Presbrey's relentless lust for connecting with audiences has driven the release of his fourth studio album Falling Together. Where Dust Unto Dust (Produced by Ryan Hadlock: The Lumineers, Strumbellas, Vance Joy) centered around picking up the pieces following the sudden passing of his father in 2012, Falling Together is a reflection of his experiences as life moved forward with his father there in spirit. Recorded at Left + Right Studios in Nashville, TN with producer Skylar Wilson (Andrew Combs, Rayland Baxter, Justin Townes Earle), KP tapped into that white hot East Nashville vibe this time around in his quest to perpetuate positive feelings, togetherness, and simply finding the bright side in life. From great tragedy comes great triumph - and peace.
Session Photos