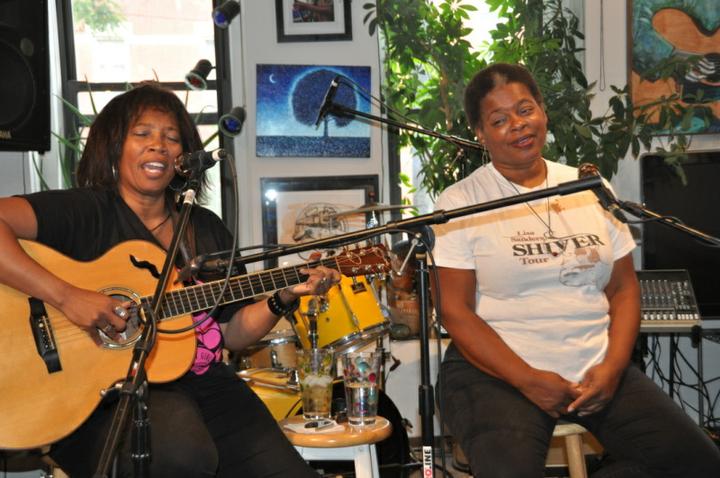 Lisa Sanders and Karen "Brown Sugar" Hayes
Episode 659
Artist:
Lisa Sanders and Karen "Brown Sugar" Hayes
Lisa Sanders and Karen "Brown Sugar" Hayes
I fell under the spell of these two beautiful women and their amazing performance one afternoon a few months ago, and here are the fruits of our labors. Enjoy.
They

are a pair of electrifying, bodacious, harmonizing singers of genuine heartfelt songs. This country-bluesy duo have been performing there unique style of music for over ten years to enthusiastic fans across America.
Lisa and Karen's friendship began long ago when they met briefly at a high school party. Later on in life, both older and much wiser, the women met again when their kids were in the same class at school. They became the best of friends. Neither one of them realized that one day they would be a couple of moms writing and performing music all across the country.
Karen has been singing since high school. When Lisa noticed that Karen knew all of her songs and had an amazing sense of harmony, Lisa asked Karen to join her band. They have since become a musical powerhouse. With harmonizing skills that have garnered the duo many accolades and opening spots with artist such as Bonnie Raitt, Lucinda Williams, BB King, Al Green and many more. Lisa Sanders and Brown Sugar are set to tour in support of their 8th CD release
Shiver

, nominated for San Diego Music Awards Best Pop Album. Produced and recorded by Jeff Berkley of Berkley Hart. Recorded with the Lisa Sanders Band, led by Jeff Berkley.
Session Photos