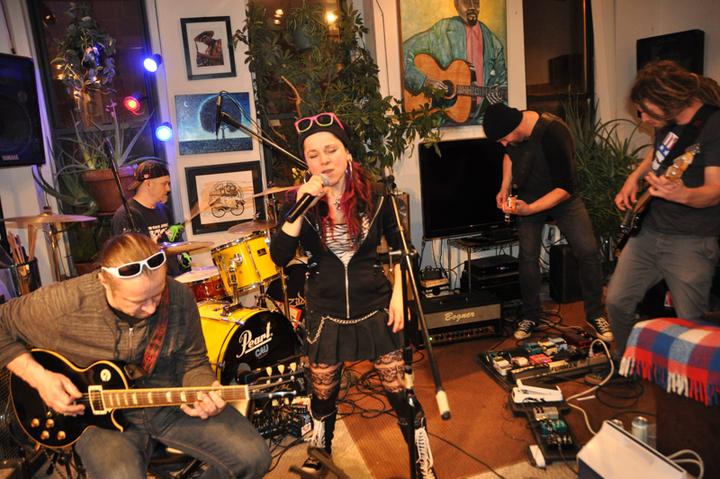 4WithOut
Episode 646
Artist:
4WithOut
From the Czech Republic to Chicago to the CAU Studio, by far the loudest and most exciting band to perform here. I was so mezmerized by this band I forgot to turn on my mic until about the third song.
4WithOut is a powerful and energetic female fronted Chicago based original hard rock band.
Stylistically aggressive, but musically and melodically focused. Adding a twist to the mix is the
fact that the primary members hail from the Czech Republic, infusing the cultural "DNA" of
European musical heredity. Very different considering the current watered down pop-rock/metal
culture that exists these days. FINALLY something new, different and sexy!
Since the bands inception in 2009 and completed formation in 2012, 4WithOut has been performing non-stop and accumulating numerous accolades from the media and peers alike. Here are just a few:
Winners of Battle of the Effn Rock 2012
The Best Rock band in Chicago Independent Music Awards 2014
The winners of the Revolver Hottest Chicks in hard rock Tour 2014.
Featured musical guest on the Mancow Tv/Radio show 2014
Opening act for Lacuna Coil, Saving Abel, Sick Puppies
Featured (repeated) interviews on Rebelradio.com and Czechoslovakradio.com.
Performed for the Czech Consulate of Chicago at the Prague Rock Fest 2015.
Members:
Jana Vox - vocals
Jiri Jerry Cafourek - guitar
Carl Fornia H - guitar
Filip Halas - bass
Jason Mallow - drums
Session Photos