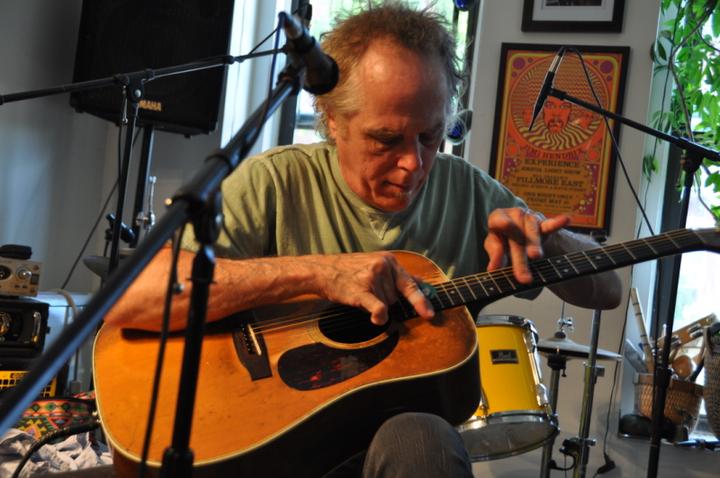 Jimmy Robinson
Episode 634
Artist:
Jimmy Robinson
This is from the Lost and Found department. Totally my fault. Read this man's Bio and you will know how embarrased I am.
Jimmy Robinson has been recording and touring for over 40 years. He has received critical and audience praise for his unique virtuoso approach to the guitar, and his rich compositional skill.
He has toured the world with appearances at:
The Acoustic Franciacorta and Madame International Guitar Festivals both in Italy,
The Gutarrenzauber Festival, Gros Rohrheim, Germany
The Zihuatenejo International Guitar Festival, Zihuatenejo, Mexico
The Big Green Cardigan Festival in East Sussex, England
INGUITAR Festival, Switzerland
The Brilliant Strings Concert Series, Los Angeles, California
The TACH Cultural Festival, Reno, Nevada
ProgDay, Chapel Hill, North Carolina
Pan Am Jazz Festival, CanCun, Mexico
Jazz Encuentro, Guatemala City
Festivale Internationale, Lafayette, La.
Malaga Fest, Mobile, AL
The New Orleans French Quarter Festival
The Crooked Pines Guitar Show, Atlanta, Georgia
and over 25 Years at The New Orleans Jazz & Heritage Festival
He has opened concerts for
John McLaughlin And Mahavishnu Orchestra
Chick Corea's Elektrik Band
Jeff Beck
Bela Fleck And The Flecktones
Adrian Belew
Bill Bruford And Patrick Moraz
Stevie Ray Vaughn
Johnny Winter
John Mayall
The Glenn Phillips Band
Hugh Masekela
Spyro Gyra
The Neville Brothers
John Fahey
Charlie Byrd
Billy Cobham
John McLaughlin Trio
Jimmy first made a name for himself playing electric guitar and leading the psychedelic rock/blues band Ejaculation (yes, you read correctly, it was 1968, after all...) at the Free Concert weekly series on New Orleans Riverfront.. He went on to front The Progrock band Laugh In The Dark in the 70's, and in 1975 founded the celebrated instrumental rock fusion band Woodenhead. Woodenhead performs today, and is celebrating their 40th anniversary with a special performance at The New Orleans Jazz & Heritage Festival in May, 2015, as well as releasing a recording of new material, a live concert from New Orleans' famed Tipitina's
and a reissue of their entire, remastered catalog.
He also founded the New Orleans Guitar Collective Twangorama, with guitarists Phil deGruy and Cranston Clements, and later The New Orleans Guitar Quartet.
Jimmy studied classical guitar and composition at Loyola University in New Orleans and The Eastman School Of Music in New York. He combined these elements with his electric experience to forge the solo acoustic style that he now tours with. His third solo cd is set for Spring, 2015 release.
Session Photos