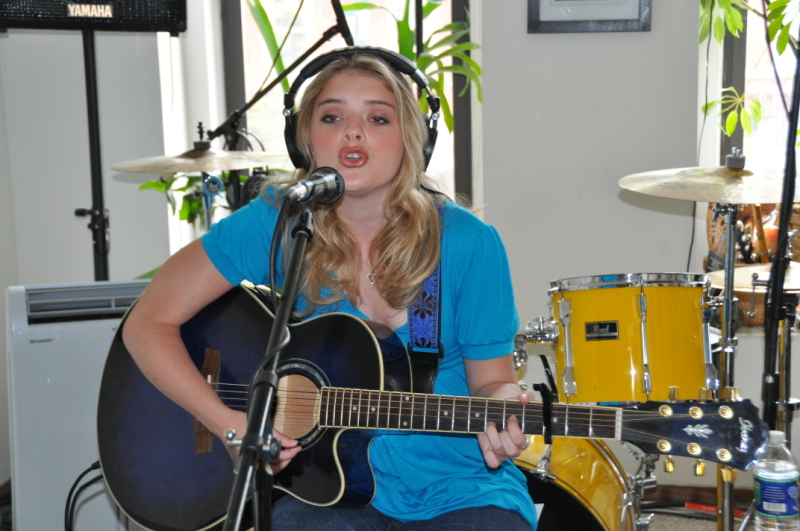 Ashleigh Ashton
Episode 368
Artist:
Ashleigh Ashton
I first saw Ashleigh Ashton at the Hidden Shamrock Open Mic thanks to the recommendation of Leigh Evin McCullough. I immediately asked her to come in and record a Podcast.
Ashleigh is a strong performer and really quite good considering she is only Sisteen years old. Let's see, what was I doing at that age?
Ashleigh received her first guitar on her tenth birthday and wrote her first song then and there. She'd begun her career in the theater at age five but that day she found her true love in music. By thirteen, she was opening for various bands in Chicago area venues and within a year was being featured as a solo performer in her own shows. She has written 125 original songs to date!
Ashleigh's first big break came in the summer of 2009 when she travelled to New York to record three original songs, produced by Grammy Award Winner Barry Goldstein. Following that, she went on to Castle Nine Studios in Rochester, New York to record her song "Break In Two", co-written and produced by Richard Fink IV and Johnny Cummings. In 2010, she was introduced to MashPlant.com founder and Executive Producer Jason Brett, who invited Ashleigh to become MashPlant.com's first Rising Star.
Ashleigh balances schoolwork with a rigorous performing schedule at musical venues throughout the Midwest. She's received numerous regional talent awards, including the first ever Rialto Idol Junior Winner 2010 at the historic Rialto Theater in Joliet, Illinois. Ashleigh has performed at the Nashville Palace and has appeared as a host on the television show, Nashville Spotlight. Additionally, she is a mentor with the renowned Piven Theater Workshop children's program, where she has studied acting since the age of nine. She was featured as a player on "Fear No Art Chicago " on PBS in 2011.
Enjoy this beautiful young woman's performance. I am certain that you are going to see and hear much more from Ashleigh.
Michael Teach, Founder/Host, CAU
Session Photos