The Artist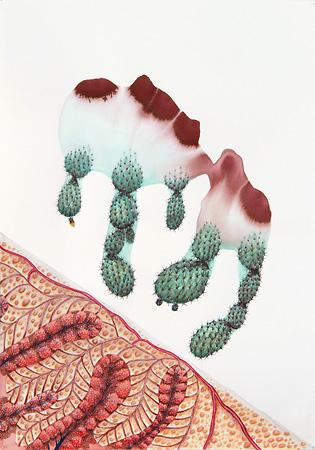 Vesna Jovanovic
Vesna Jovanovic is a contemporary visual artist who examines science and the ways in which we build knowledge and analyze perception. She makes use of various traditional visual languages, such as scientific illustration and religious iconography, while incorporating methods that yield relatively unpredictable results. This gives rise to an experimental process that culminates in a peculiar mixture of chance and order: one that is reminiscent of mad science or alchemy.
Born in Chicago, IL, in 1976, Jovanovic lived in Yugoslavia during most of her childhood years, returning to Chicago during the Yugoslav wars in 1991. She received a BA in Fine Arts and a BS in Chemistry from Loyola University Chicago in 2000, where she won the Mellon Award, 1st Place, at the senior art exhibition. Upon completing her degrees she began working in a scientific research and development laboratory while attending The School of the Art Institute of Chicago. At SAIC she was awarded a Merit Scholarship of Recognition and received a BFA in Studio Art in 2003. She also received an MFA degree in Photography in 2005 from The Ohio State University.
Jovanovic is a recipient of several awards and grants, including an Individual Artist Support Grant from the Illinois Arts Council in 2011, a Curator's Choice Artist award at the 10th Annual Chicago Art Open in 2007, and a CAAP grant from the City of Chicago Department of Cultural Affairs in 2007. Her artwork has been featured in various publications such as Newcity and Time Out Chicago, as well as numerous blogs including Discover Magazine, Seed Magazine, and Art:21. She has had over fifty exhibitions since 2003, including solo exhibitions at the International Museum of Surgical Science, the University of Chicago Gordon Center for Integrative Science, and the Contemporary Art Center of Peoria. She currently lives and works in Chicago, IL.