The Artist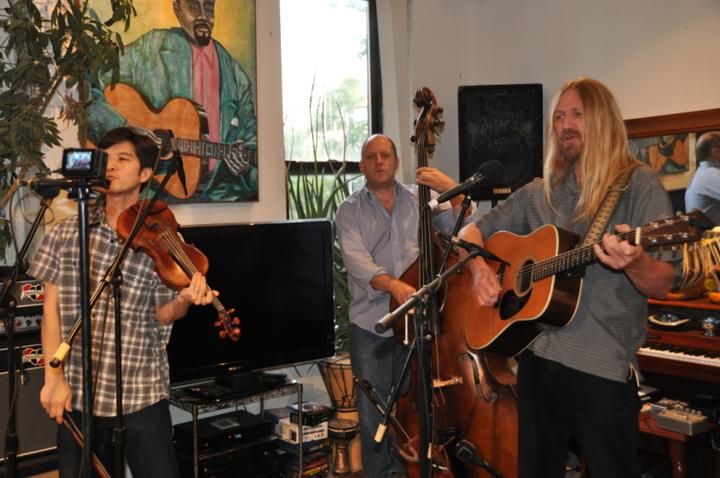 Tangleweed
Back last summer I had the great good fortune to catch Tangleweed at home in Chicago in between tours and got them in the studio to record this show. As you will hear and see, we had a blast recording this Podcast.
Tangleweed is a band of three forward-looking musical reactionaries from Chicago, Illinois. While the band's instrumentation is standard bluegrass, their music is anything but. With a repertoire both broad and deep, one listener described them as sounding like "a band playing on a pirate ship off the coast of New Orleans in the 1920s". Their four CDs have garned critical praise and worldwide airplay, earning the band invitations to appear at major festivals and quality venues around the country.
Tangleweed formed in the summer of 2004, with Paul Wargaski on bass, Billy Oh on fiddle, and Scott Judd on guitar. Add'l founding members Timothy Ryan Fisher and Kenneth "Kip" Rainey also logged several years each on banjo and mandolin respectively. Fisher left the group in 2010 after 300+ shows and three cd's, while Rainey departed in 2012 after nearly 400 shows and four cd's.
The current lineup of Judd, Oh and Wargaski passed it's litmus test with flying colors in July 2012 at Louisville's "Kentucky Music Weekend", where a festival crowd of over 1,000 heartily confirmed the band's viability as an acoustic power-trio. Since that time, the trio has aggressively developed a new sound by re-arranging early material, exploring new musical directions through fresh original compositions, and bringing Judd's guitar/vocals and Wargaski's upright bass further into the foreground. Billy Oh's fiddle work continues to dazzle as before, and remains a key feature of the band's instrumental forays.
Tangleweed Show Dates:

Date

City

Venue

Country

04/16/16

Lombard, IL

US




Time: 7:30pm. Age restrictions: All Ages. Address: 220 South Main Street. Venue phone: 630-627-0171. C'mon out and help us celebrate as part of our "Tangleweed Goes to 11" Anniversary Season.

05/21/16

Chicago, Il

US




Time: 7:00pm. Admission: $10.00. Age restrictions: All Ages. Address: Top Secret. This is an excellent house concert series in the heart of Lincoln Square. More details will be revealed as the date gets closer. Please contact Jodee Lewis to RSVP and for house address as space is limited. jlewis@lincolnsquarepres.org

06/12/16

Palatine

US




Time: 2:00pm. Admission: Free. Age restrictions: All Ages. Address: 700 N. North Court. Venue phone: 847-358-5881. We're happy to be back at the Palatine Library. There is no better way to spend a Sunday afternoon that with Tangleweed!!!