The Artist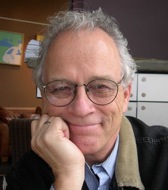 Lance Brown
LANCE BROWN holds a Bachelors of Fine Arts from the University of Denver with additional years study at the San Francisco Art Institute and the Portland School of Fine and Applied Art in Portland, Maine. He also has 3 semesters of post-graduate schooling in music. He has spent the last 30 years making his living in the arts. As a professional actor he has toured his one-person theater piece "Will Rogers Now!" nationwide for the last 22 years. As a musician and songwriter he heads up the Lance Brown Group playing jazz and blues in settings ranging from local clubs and concert venues to private parties and 2 ½ years as regulars at Navy Pier. Throughout he has maintained his artwork, creating what has now become a wealth of paintings and drawings.
For the last two years he has been accepted into the Around the Coyote Fall Festival. The first year he offered his "Blues Series" made up of fifteen 48" x 36" acrylics on canvas of musicians and in the second year he was awarded curator's choice status for his smaller meditative and improvisational works. He won special honors for his "Mister Purple Suit" at the Senior Artists Network "Later Visions" Show of 2007 which was organized through Chicago Cultural Center. His "Blues Series" was exhibited for the months of June and July 2008 at the Old Town School of Folk Music on Lincoln Avenue and after which it was hung in Bushel & Pecks in Beloit, Wisconsin. His smaller paintings and drawings were on display in the Café Belwah in Beloit as well. Presently his works are on display in various music stores in the area – Guitar Works in Evanston and Sam Ash Music in Buffalo Grove and Lombard.
His commitment to improvisation has led Lance to become truly a "performing artist". He has painted and drawn to live music in nightclubs and theaters throughout the Chicagoland area. He has painted to The Scotland Yard Gospel Choir at Shubas, Eddy Clearwater's Blues Band at Bill's Blues in Evanston and to Strauss, Bach and Beethoven at the Skokie Theater in Skokie, Illinois. Lance has taught his technique of Drawing as Meditation and Improvisation at the North Shore Senior Center in Northbrook, Illinois over the past year and is scheduled to continue the courses in the Fall.