The Artist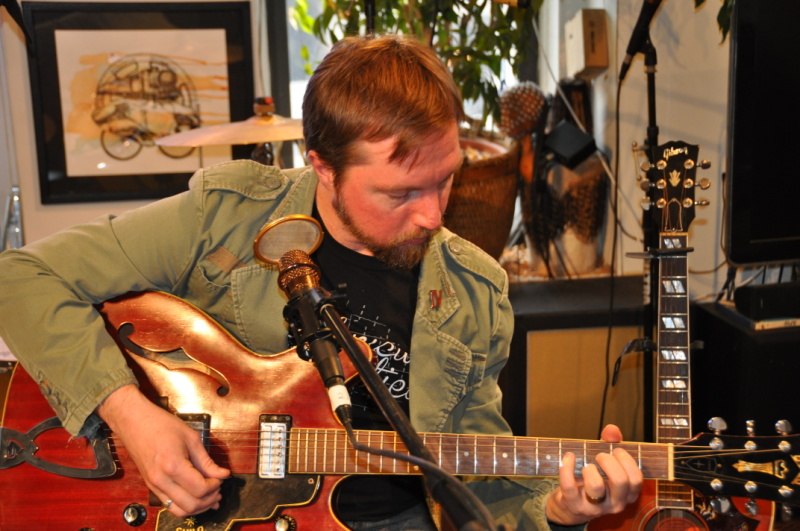 Jeff Brown farewell Podcast 2018
Often reluctant – or unable – to characterize with any particularity the definitive style of his music, Jeff Brown frequently describes his sound as 'a singer-songwriter who got himself a band.' His shows and music run the range from delicate indie-folk to more aggressive alt-rock with forays into jazz and chamber pop. His songwriting trends towards the melancholic and his Facebook page cites his songwriting influences as "Girls and alcohol, mostly," though in reality, his music is rarely that one-dimensional. Brown writes love songs for people who are sick of love songs.
Chicago-based singer/songwriter Jeff Brown was born in the Chicago suburb of Elk Grove Village, IL. After moving to California as a child, he began a lifelong love of making music upon finding his dad's old guitar in the attic. Raised on heavy metal (Brown was a veteran performer in several heavier bands throughout high school and college), versed in classical and the blues, he has since found his home in the soothing melodies and heartfelt lyrics of modern folk rock, reminiscent of Damien Rice, Iron & Wine, and Glen Hansard.
Brown has completed numerous Midwestern regional tours, as well as a handful of cross-country tours, and most recently his second tour through Europe – a 23-day string of shows through Iceland, England, Ireland, and Scotland throughout April and May of 2016.
Balancing a blossoming legal career with his musical pursuits, Brown released his long-overdue debut album, Last Chance, on CAUDog Records on July 2, 2012. The album, an 11-track work engineered and produced by Ellis Clark, was named via Brown's assertion that "pretty much every one of [these] songs is a healthy mix of desperation and hope." Also available are a pair of EP's, recorded at Chicago's The Workshop Jones, and Deerpath Studios in Madison, WI. 'Madison or Bust' was released in January 2014, and 'Cutting Ties' was released in August 2014. Brown is in the studio now completing his second full-length solo album, with plans for a full-length rock record with The New Black to start recording late summer/early fall.
While it's been a busy few years for this upcoming singer-songwriter, it appears clear that "The Best is Yet to Come…"