The Artist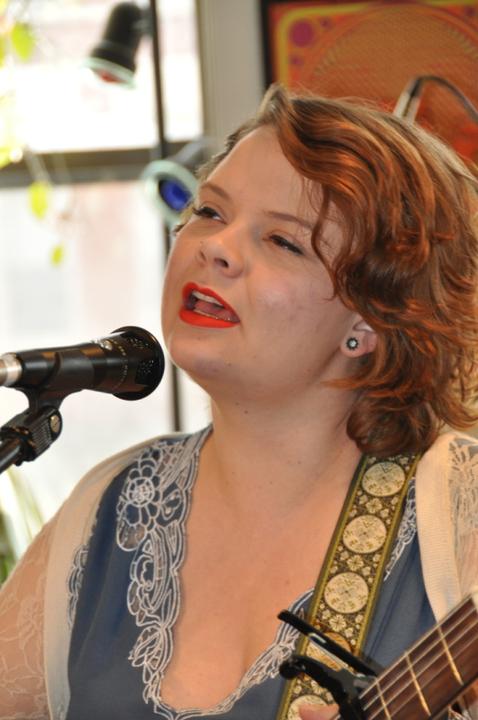 Heather Styka 2014
When listeners describe singer-songwriter Heather Styka as an "old soul," the term applies to more than the wisdom beyond her years in her writing. Styka's tunes have a vintage familiarity that draws inspiration from folk and Tin Pan Alley sounds, but the vivid images of her lyrics render her songs as fresh, smart, and unexpected as they are hummable. Also a poet and writer, Styka crafts songs that analyze moments, places, time, changes, solitude, relationships, and community. In addition to numerous songwriting awards, her 2011 release Lifeboats for Atlantis received critical praise, hitting #3 on the national FOLK-DJ charts. With a distinctive guitar style and a pure, soulful voice, Styka's performances feel as candid as late night conversation and as comfortable as coming home.

Heather Styka originally hails from Chicago, where she started writing and performing at fourteen. She spent the subsequent decade performing throughout the Chicago area, and after obtaining a degree in creative writing, began touring the Midwest and Northeast. Her 2011 release Lifeboats for Atlantis brought her to national attention, ending up on a number of radio DJs "best albums of the year" lists (Midnight Special, WFMT). In the spring of 2013, Styka uprooted and moved to Portland, Maine, where she quickly became part of New England's folk and Americana scene. "I'd been yearning for open space," says Styka of her move. "And in Maine I found it, while staying connected to a community that inspires me." The songs of Heather Styka's upcoming record, While This Planet Spins Beneath Our Feet, reflect the surroundings of her new home state, conjuring images of fields, forests, and ocean, amidst the changing of the seasons and the passage of time.

While some newcomers to today's burgeoning folk scene might sound like they're "trying on" a Americana sensibility the way one might don a vintage hat, Styka's influences are subtle and authentic to her voice, filtering through without obscuring her distinct perspective. And while her music sits firmly in the contemporary acoustic genre, garnering comparisons to artists such as Feist, Emiliana Torrini, or Bon Iver, it falls just outside the current trends, often finding more common ground with Ella Fitzgerald or Leonard Cohen. "I've never been the coolest person in the room, I'm probably too earnest," she laughs. "But I've learned to celebrate that."

Styka's ability to connect with listeners has earned her a number of songwriting awards, including first place in the Big Top Chautauqua Songwriting Competition (2009) and second place in the Great Lakes Songwriting Contest (2012). She's made an impact at the Folk Alliance Region Midwest, Northeast Regional Folk Alliance, and Folk Alliance International conferences, having been selected for official juried showcases at both FARM and FAI. Styka has also been a featured guest on WFMT's "Sweet Folk Chicago" and on Tom May's nationally syndicated "River City Folk."

With training both as a poet and an actor, Heather Styka is equal parts wordsmith and performer. Her smooth, natural vocal command "combines the influences of a fragile Irish air, the warm effervescence of upbeat Americana, soulful country, and mournful blues" (FolkWords). Styka's live performances are marked by her sincere authenticity — whether she's playing the smallest house concert or the largest theaters across the country, there's no difference between the cheery young Midwesterner before and after she gets on stage. Colored by a quirky and confessional sense of humor, Styka's shows feel as playful as they are intimate. A few tunes may bring you to tears, but her stage banter is equally as likely to make you laugh.

When she's not home in Maine, you can find Heather Styka traveling the roads with curiosity, wanderlust, a sunny persistence, stories, and songs in tow. Styka's much-awaited new release, While This Planet Spins Beneath Our Feet, was recorded in Saranac Lake, NY, and Styka herself has printed the CD jackets in Maine on a foot-powered 1901 letterpress. Styka will be touring in support of the new album, following its release in September 2014.