The Artist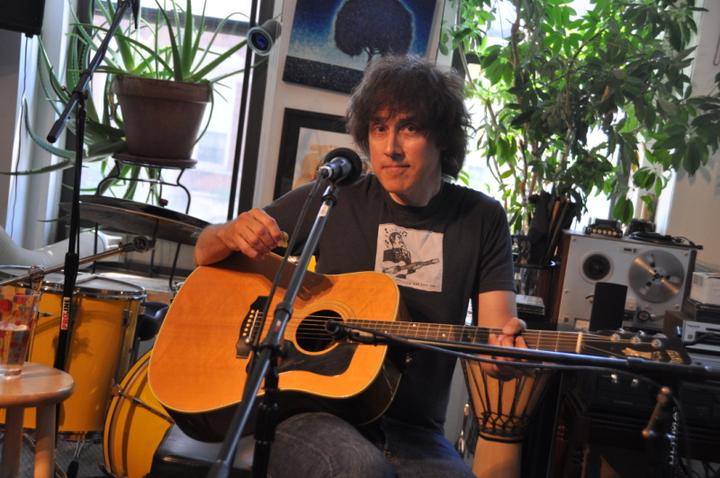 As Waters aka Tristan Avakian
Created over the course of two North American tours, 'As Waters' is a classic heartbreak album, much like 'Blood On The Tracks' (Bob Dylan), 'For Emma Forever Ago' (Bon Iver), '21' (Adele), 'Back To Black' (Amy Winehouse), 'Vulnicura' (Bjork) and 'Sea Change' (Beck). Similar to these works, it evolved spontaneously out of a necessary catharsis. "I started writing again for the first time in years, and to my surprise, it wasn't like anything I'd ever done", Avakian says. Born and raised in New York City, Tristan Avakian moved to Toronto in 2006 when he landed the job as lead guitarist of 'We Will Rock You' (the musical) and in spite of the fact that he is known principally as a musical theater/rock guitarist (including Rock of Ages, Hedwig, Book of Mormon and most recently, the award-winning Kinky Boots), the material on 'As Waters' is story and lyric driven, and the instrumentation comes in second.

Written primarily on a battered acoustic, the songs lent themselves well to open mic nights and Tristan began to try them out in assorted cities while on the road with the various musical theater productions (from the spring of 2013 to the fall of 2014). Avakian explains, "I tried to present one new song each time. The songs took on something of the cultural identity of whatever city I was in, refracted through what I was feeling at the time... eventually I had a body of work. And people were coming forward to tell me how touched they were by the songs. People whose opinion I respected. So, I had no choice but to make an album."

On a tour stop in Nashville, Tristan recorded three songs with Grammy winning musician, producer Gary Gold (Ivan Neville, Diego Clare, Smokey Robinson, Bonnie Raitt, Christina Aguilera, Joss Stone, Carlos Santana, India Irie, Jennifer Hudson, lil Wayne, Michael Brecker and Stevie Wonder), which was enough to secure a successful Indiegogo campaign in June 2014.

Continued writing on the road, led to recording the rest of the songs in Los Angeles, and then taking them back to Nashville to mix. The nature of the material demanded an organic approach. It is a heritage album that assimilates a variety of styles, all of which pre-date Woodstock. There is an American Civil War ballad, an Elizabethan lay, Revolver-era Beatles, lush orchestral pop, film noir, Tropicalia – but with a bracing post-punk sensibility instantly familiar to fans of songwriters including Josh Homme, Trent Reznor, Ben Gibbard and Billie Joe Armstrong. "The combination of these elements was strangely freeing."

"As I approached the production stage, I realized I could do whatever I wanted," Avakian states. For example: Imagine Scott Walker fronting the Nelson Riddle Orchestra, singing a Leonard Cohen song you have never heard before. Because it is new. Track four is called "Amnesia", and that's more or less what it became. "It's hard to apply the word 'fun' to something that is meant to be devastating...but it was kind of fun."

More a soundtrack to an emotional odyssey than an attempt at a top 40 "hit", clearly this was not meant to be a laptop album. 'As Waters' evokes an era when things were made by hand, to be lasting and beautiful, rather than utilitarian and disposable. So it needed real players, and it got them: Viktor Krauss (upright bass, Lyle Lovett), Petri Korpela (percussion, Josh Groban), Mike Waldron (guitar, Tanya Tucker, Martina McBride), David Davidson (strings, renowned Nashville-based session violinist, composer, orchestral concertmaster) and many others.

'As Waters' was influenced by classic 1960s story songs and yet, will appeal to fans of modern artists with similar inspirations such as Conor Oberst, the Wood Brothers, Laura Marling and Ryan Adams. The album includes nine original songs and one cover – Beck Hansen's "Just Noise", sourced from Song Reader (his sheet music book; Beck has never recorded it).