Episode 653
About the Episode:
Shelley Miller and Chris Geisler came into the studio one afternoon and blew me away. Their sheer raw musical energy combined with killer lyrics got this old man on his feet and dancing. What a great band Soft Ledges is. You can catch this energy at their album release show December 4, 2016 at Elastic Arts. 3429 W. Diversey, Chicago, IL 60647 #208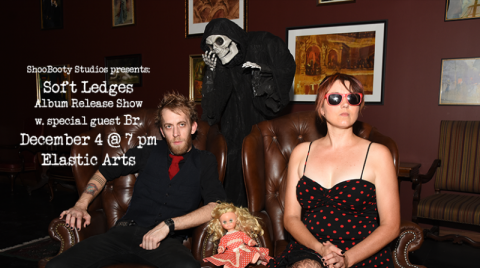 ShooBooty Studios 2016-2017 Music Series presents:

Soft Ledges Album Release Show
w. special guest Br.
Sunday, December 4 @ 7 pm
all-ages/BYOB
Suggested donation: $10. Tickets available at the door

Chicago indie-rock/noise-folk band Soft Ledges (www.softledges.com) makes harsh, angular, delicate music about being lost...and found. Formed in 2015 by songwriter Shelley Miller (vox/keys/guitar) and Chris Geisler(bass) and rounded out by drummer Raul Callejero, the band bends, scrapes and bows their instruments and strings, conjuring dark soundscapes that bring Miller's cautionary, redemptive stories to life. Tonight they'll celebrate the release of their self-titled debut album (avalable 11/18/16 on CD/vinyl/digital)

Fingerstyle guitarist Br. (Louis Bardales) opens.

Gracious thanks to Elastic Arts and Bill Brickey of ShooBooty Studios for hosting this show.
0
Episode Video