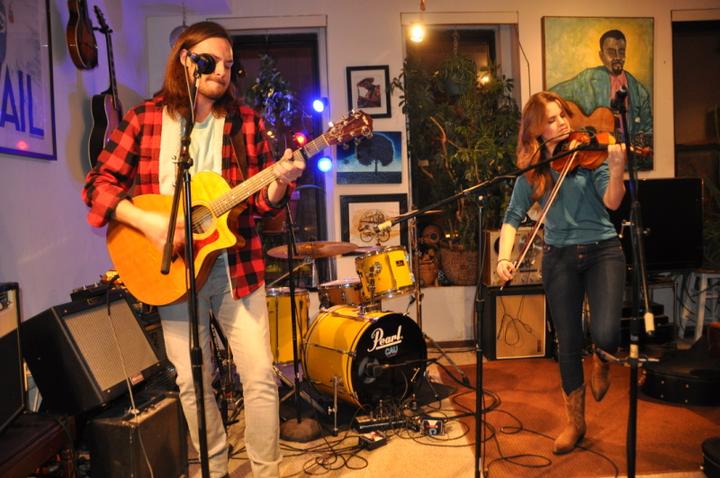 Will Mackie-Jenkins with Emily McGinn
Episode 658
Artist:
Will Mackie-Jenkins with Emily McGinn
Will Mackie-Jenkins is a singer-songwriter in Chicago, IL.
Will and the ever amazing Emily McGinn of Baby Shark fame came in and recorded a wonderful set of Will's music. Will's background as a degreed Poet with a book of published poetry was quite evident. The lyrics are creative, inventive, and certainly thought provoking.
His debut EP Cherries in Bloom tells a narrative of departure, grieving, and seasoned love over the course of its six songs. Folk rhythms of his native Virginia are refurbished, made unique, and combined with unusual lyricism that is often simultaneously haunting and sweet. Recorded in the Uptown neighborhood of Chicago during late summer/early fall of 2015, Cherries in Bloom has a curious urban sensibility to it–as if the speaker of the songs is reflecting upon a very different past life that can never be revisited, but must be made to have meaning.
Acknowledgments
All music and lyrics for Cherries in Bloom were written and performed by Will Mackie-Jenkins. He played the guitars, the harmonica, the organ, the tambourine, and sang all the vocals on the EP. Derik Kendall performed violin on "Miss Virginia" and "The Dog's Song." Cherries in Bloom was recorded, mixed, and mastered by Rob Ruccia at Uptown Recording in Chicago, IL. Chan Arthur (carthur@saic.edu) painted the album's cover art.
Special thanks to Derik Kendall, Lora Mackie, Warren Mackie-Jenkins, the Hewitts, Emily McGinn, and Rachel Sharp for their contributions and support throughout the process.
Session Photos