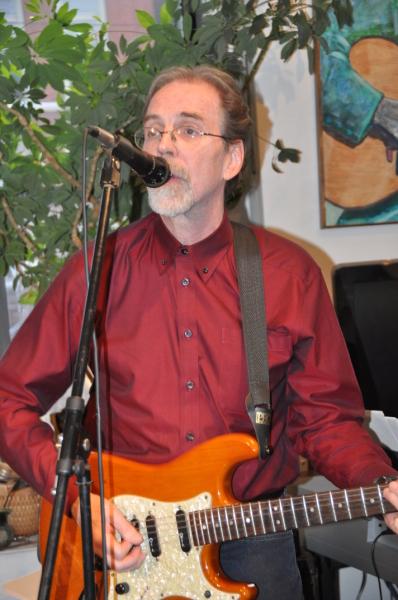 John Kimsey and the Twisted Roots
Episode 642
Artist:
John Kimsey and Twisted Roots
John Kimsey and the Twisted Roots Quartet joined us for an amazing night of inspired Americana. The group features John on vocals, guitar and songwriting; Lia McCoo on vocals, flutes and percussion; Morry Fiddler on keyboards; Steve Hashimoto on bass; and Brad Newton on congas and percussion. The songs they performed in their 28-minute set are Amarantha (starting at 2:07); She Says Yes to Everything (6:08); Beat the Drum Slowly (12:01); Words for Snow (16:14); and Wide Lawns and Narrow Minds (23:29).
The first, third and fifth tunes appear on Kimsey's album Traps for Troubadours: the Best of Twisted Roots, which is available in CD format from CDBaby.com; for download from CDBaby and iTunes; and for streaming on Spotify and other digital services. The remaining two tunes in the set come from the repertoire of the Art Thieves, an eclectic neo-psych band led by Kimsey which featured various members of the current group way back in the 20th century and whose albumArkanum: Selections, 1981-1993, is available from the same outlets.
The Twisted Roots Ensemble first came together in 2003 to perform Kimsey's award-winning song cycle Twisted Roots: Music, Politics and the American Dream Blues, which has been described by Ben Sidran, former host of NPR's Jazz Aliveand score composer for Hoop Dreams, as "an ingenious way to integrate political and social commentary into a musical architecture," and by DePaul University chaplain Anthony Nicotera as "music to inspire the soul and charge your commitment to peace and justice." To find out more, go to John Kimsey, musician on Facebook.
Session Photos