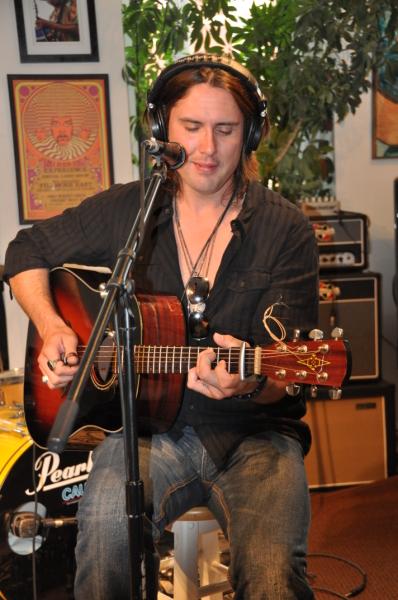 Con Pedigo
Episode 598
Artist:
Don Pedigo
Don Pedigo will be joining us this coming Tuesday night March 3, 2015 at the Act One Pub as our special guest for the CAU Singing For Your Supper Showcase Series. Come join us in welcoming Don to the Chciago Music Scene'
Don Pedigo's latest project THE CROSS EYED SESSIONS is a musical composition reflective of the life experiences of peaks in heartfelt love and valleys in endured hardships of the everyday working man. A presentation crafted in a devotion to the art of creating a style unique, the collection of songs reveals one of the Americana movement's most honest and compelling talents.
Born in Freetown, IN, Pedigo's mid-western charm is matched by his ability to capture a listening audience with handcrafted lyrics, expressive vocals and Chet-like pickin'. With the will and work ethic of a Heartlander, Pedigo's passion led him to the heart of Music City where life as a recording artist, songwriter, musician, husband, father and friend shaped a sonic chapter of Pedigo's life called THE CROSS EYED SESSIONS. Mastered by five-time Grammy Award winning producer Ray Kennedy, the project captures the authentic and organic recording process within each song.
Arriving in Nashville, he caught the ear of legendary songwriter Earl Bud Lee ("Friends In Low Places"/Garth Brooks, "Who Are You When I'm Not Looking"/Blake Shelton) who nurtured Pedigo's inherent song-crafting ability. In 2006, Pedigo recorded his first full-production record WHAT I WAS RUNNING FROM (featuring Buddy Miller on guitar) and released the single "Mama's Wedding Gown" (produced by Larry Crane) the following year. The complementary music video qualified the tune as a finalist on the CMT Music City Madness Singer/Songwriter's Competition Top 20 Video Countdown dubbing Pedigo as "the hard-rocking heartthrob from the heartland."
Session Photos