Episode 615
About the Episode:
The Dayna Clay Band:
Fictional character. Real band. Vital cause.
Paul McComas' acclaimed novel UNPLUGGED tells the story of Dayna Clay, a 27-year-old rock star battling depression and post-traumatic stress in the wake of an abusive childhood. Although Dayna's story is fictional, the book addresses issues that are all too real.
The Dayna Clay Band adapts the novel into a stage production, meshing songs and spoken-word performance to tell Dayna's story.
The stage version of UNPLUGGED combines riveting drama with original songs to chronicle Dayna's bumpy journey out of depression, through the South Dakota Badlands, and into discovery, hope, full embrace of her bisexuality, and love.
Proceeds from our book, music, merch and ticket sales benefit the Rape, Abuse & Incest National Network (RAINN)'s National Sexual Assault Hotline, as well as One Mind for Research, Patrick J. Kennedy's initiative to eliminate the stigma of mental illness.
Join us as we spread awareness of this vital cause!
Paul McComas is an award-winning author (five critically acclaimed books, plus three in process), actor, educator, filmmaker and musician, and a progressive activist who's been honored by his home state of Wisconsin; the Mental Health Association; and the Rape, Abuse & Incest National Network, on whose National Leadership Council and Speakers Bureau he serves. Learn more at http://paulmccomas.com/
Chicago songwriter Maya Kuper is honored to portray UNPLUGGED protagonist "Dayna Clay" in the Dayna Clay Band. Hear more of her music at http://mayakuper.com/
On August 18, 2015 you can see a Free live performance of this group on a mission, a very important misson at Greenhouse Theater 2257 N. Lincoln Ave, Chicago, IL Donations are welcomed to benefit RAINN (Rape, Abuse, and Incest National Network) and One Mind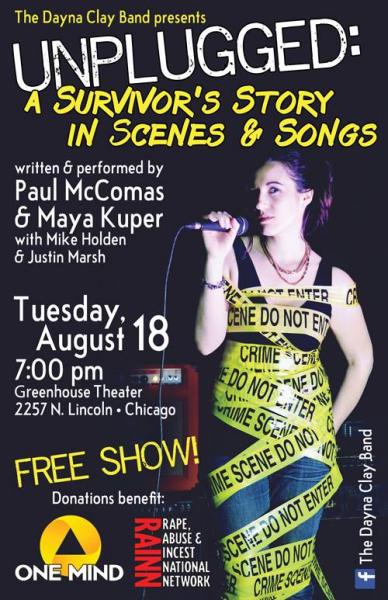 0