Sept 19th Celebration: 10 Years of CAU Podcast, 6 Years of CAUDog Records, Plus Founder/Host Michael Teach's 70th Birthday
Sun, 07/26/2015 - 1:59pm — hannahf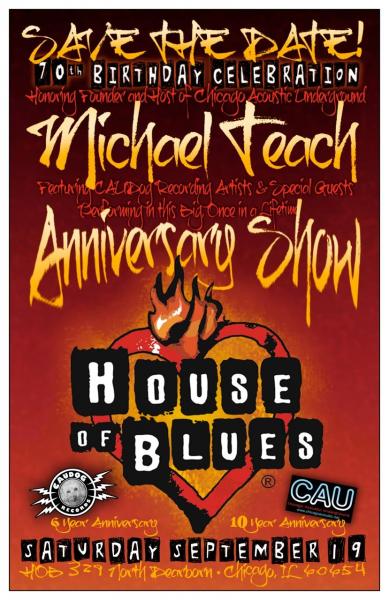 ********Official Press Release coming soon************
Celebrate with us at the eminent House of Blues. We're recognizing ALL OF YOU-- original music is an ongoing journey and we love ALL of the amazing acts that have been part of CAU and the numerous showcases constantly bringing original music to new audiences.

The outpouring of music led to the development of the record label CAUDog Records and it's now going 6 years strong! CAU Podcast has been part of the fabric of Chicago for ten years and it's high time to....
CELeBRATE with Us!!!! A night of wonderful entertainment, fun and togetherness at House of Blues Chicago.
Headliner The Lauren Wolf Band
Ellis Clark & the Big Parade
Greg Jackson Combs
Barrett's Hidden Agenda
Hannah Frank Group
The Future Laureates
---and special guests.....
Host and Founder Michael Teach has supported original music in Chicago in an "above and beyond" fashion for over a decade as he selflessly and generously assists artists to live their dream, find their voice and bring excellent original music to new audiences. There's lots to celebrate with this sensational 70th Birthday Party!
TIX INFO COMING SOON ~ SAVE THE DATE!