The Future Laureates Oct 25th at Double Door! Plus More News from TFL
Mon, 10/21/2013 - 10:02am — hannahf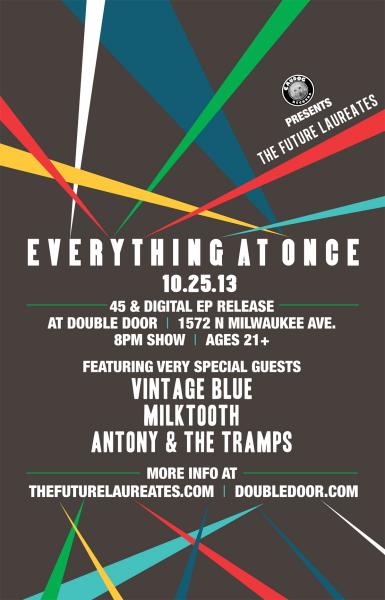 Well, fans: it's time for some BRAND NEW MUSIC FROM TFL!!!
On Friday, October 25 at Double Door, The Future Laureates will be releasing our 4th record and 2nd collaboration with CAUDog Records in 2 years: a Dropcard and Digital EP called "Everything at Once." The time spent recording this project has been marked by an unprecedented level of detail and a whole lot of fun. We think you'll hear some things from TFL that you've never quite heard on one of our records before. And boy, does that make us excited to share these new songs with you!
Supporting the night will be:
Vintage Blue http://www.vintagebluemusic.com/
Milktooth (from Nashville) http://milktoothmusic.com/
Antony & the Tramps http://www.antonyablan.com/
Doors at 7:30, music at 8. 21+ show.
Please note: TFL AND THE BANDS WILL HAVE DISCOUNTED PRESALE TICKETS FOR ONLY $10, whereas door price will be $15.
If you're interested in pre-ordering a limited-edition 7" before the show, let us know that as well and we'll hook you up!
We have been very fortunate to have the unwavering support of you, our ever-growing supporters of friends, family, and fans. We hope you'll join us and make this a night to never forget.
Get your tickets now, and we'll see you on October 25!
-YOUR future laureates
MORE NEWS FROM TFL
We've been very busy the past few months, really putting our noses to the proverbial grindstone, and we've got some awesome things to show for it!
NEW MUSIC! We're releasing a 45 vinyl, along with a digital EP, titled "Everything at Once". The release show will be at Double Door on Friday, October 25th, which is also when the EP will be available online worldwide. This is our fourth studio release as a band, and our second consecutive project with CAUDog Records! Woohoo!
TOUR DATES! We will be hitting the road to promote "Everything at Once", and if you or someone you know will be near one (or more!) of these shows, come on out and spread the word!
​10/4 -- Eau Claire, WI @ The Acoustic Cafe, w/ Beacon James
10/5 -- Menomonie, WI @ Pioneer Grill and Saloon, w/ Beacon James
10/25 -- Chicago, IL @ Double Door, w/ Vintage Blue, Milktooth,Antony & the Tramps (EP release date!)
11/8 -- Iowa City, IA @ Java Blend (Iowa Public Radio broadcast!)
11/9 -- Nashville, TN @ The 5 Spot, w/ Milktooth, Nudity
11/30 -- Dayton, OH @ Canal Street Tavern, w/ Shrug (Danny and James' return to southwest Ohio!)
Hope to see all of your bright, beautiful faces there!
NEW MEMBER! As we bid a fond farewell to our lead guitarist of the past two years, Joe Haggenjos, we are excited to turn over a new leaf with the legendary Andrew Bockelman! Andrew is in his final year at Columbia College, studying songwriting, recording techniques, and guitar performance, and hails from Galena, Illinois. We wish you well, Joe! And welcome, Andrew!
2014 STUFF! More exciting news and shows coming up, folks! We are currently writing new songs and working side-by-side with a renowned Nashville producer, who has collaborated with the likes of Wilco, Switchfoot, Ludo, and many other artists of note. We couldn't be more excited, and we're glad you're with us for the ride!!